Do you sing or lead kirtan and want to supercharge your practice?
Are you needing to refine your current musical skills and deepen into your musical mystery?
Does singing with more resonance, ease and joy sound good to you?
If you answered "Yes" to any of these questions,
our ShaktiSonics Workshops
are MADE for YOU!
ShaktiSonics is an immersion into The Yoga of Sound.
Experience the delightful, wondrous, and soothing effects of guided raaga and devotional singing, mantra, and sonic meditation. The purpose of these weekly classes is to feed and recharge the brain, drop into the inspiration of the heart, and generate gratitude and appreciation for life.
You will learn:
• Indian raga melodies
• bhakti chants (Kirtan)
• mantra
• Sanskrit pronunciation
• harmonium hacks
• vocal secrets
Takes place at our home in Gunbarrel (10 mins from Boulder), CO. Enjoy tea and snacks and Indian hospitality. Welcome to all.
Upcoming dates: Wednesday, April 25 and Thursday, May 3
(drop-ins welcome)
Harmonium class – 6 – 7:15 P.M.
(tea/snack break 7:15 – 7:30 P.M.)
Vocal class – 7:30 – 8:45 P.M.
** We have 3 harmoniums available to play in-class
Cost is $35 for full evening (6 – 8:45 P.M.)
$20 for one segment (Harmonium or Vocal)
Private address in Gunbarrel (sent upon registration)
To register: send email to shebrings@gmail.com with your name and the date/class you are registering for (April 25 or May 3, Harmonium, Vocal or Both).
cash, check, PayPal or Credit Card accepted after class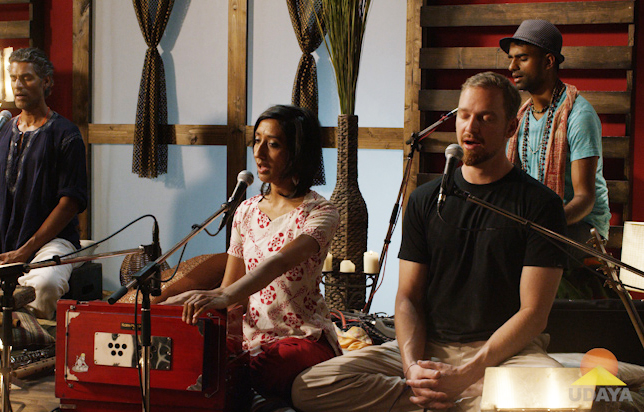 :: about your guides ::
Sheela Bringi, MFA, teaches Indian Devotional & Raga Singing at Naropa University alongside her first raga teacher Chaitanya Kabir. She performs sacred music in Colorado and around the world, and is known for her lush Indian vocals, soaring bansuri flute and harp. Sheela's music has been profiled by NBC News, Public Radio International, NPR, and many others. She has extensive training in North Indian classical, devotional and Western musical traditions. To learn more about her teachers, current work, and to hear her music, please visit:
www.sheelabringi.com.
Brent Kuecker is a yoga teacher & bass player who has played bass for kirtan and mantra music for 13 years. Brent has toured internationally with Kirtan artists Shantala, Dave Stringer and Sheela Bringi.

---
Private Lessons offered in harmonium, voice and bansuri. In person in Boulder, CO and on Skype. Contact Sheela for more info and pricing.
Sheela Bringi, MFA, holds a Master's degree in Indian Music from the California Institute of the Arts, and has been teaching harmonium and Raga-based singing and mantra practice to Kirtan leaders, yoga studio owners, and others for the past ten years. For more information on Sheela, please visit: sheelabringi.com/about