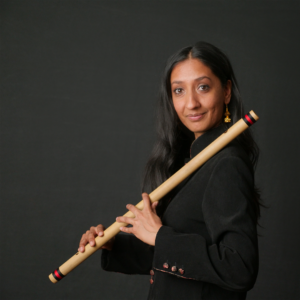 Indian American musician Sheela Bringi has been exploring the connections between her ancestral and actual homelands her entire life. The singer and instrumentalist plays the harp, harmonium and bansuri (Indian classical bamboo flute).
As a young woman Bringi was influenced by M.I.A. and Dead Can Dance, studied with Cecil Taylor and Meredith Monk, while at the same time deepened her studies with Indian classical masters like Pandit G.S. Sachdev and Ustaad Aashish Khan.
She has released two albums as a solo artist ("Shakti Sutra" and "Incantations"), and her work to bridge the musical worlds of India and America has been profiled by NBC News, NPR, Public Radio International, Yoga Journal, and others.
She has performed in a wide range of venues, including concert halls and universities presenting traditional material, yoga studios leading kirtans and in dance clubs overtop throbbing, bass-heavy beats (she's toured with Karsh Kale, DJ Drez, and many others).
Bringi's lush Indian vocals, soaring bansuri flute, and harp have graced 50+ world & new age records (including the Grammy-nominated Bhakti Without Borders) as well as several acclaimed film & TV scores.
Bringi currently studies Hindustani voice with Sri Subhashish Mukhopadyay (a topmost exponent of the Kotali Gharana). She is based in Boulder, CO where she teaches Indian Devotional & Raga Singing at Naropa University, and around the world. 
SELECT PERFORMANCE HISTORY
Festivals + Venues
Bali Spirit Festival (Bali)
Udaya Live (Bulgaria)
Wanderlust Festivals (North America & Canada)
Treefort Music Festival (Boise)
Omega Ecstatic Chant Retreat (New York)
Bhakti Fest (California)
Omega Being Yoga Conference (New York)
Conga Room (Los Angeles)
Kuumbwa Jazz (Santa Cruz)
Yoshi's (San Francisco)
BellyUp (Aspen, CO)
Yoga Barn (Bali)
Kripalu (Massachusetts)
Ananda Ashram (New York)
Air Yoga Munchen (Munich)
Jivamukti Yoga (Munich)
Svaha Yoga (Amsterdam)
Blue Whale Jazz + Art (Los Angeles)
De Young Museum (San Francisco)
Red Poppy Art House (San Francisco)
LA County Museum of Art (Los Angeles)
Tadasana Festival (Santa Monica)
Esalen Institute (Big Sur, CA)
Moksha Festival (California)
Hanuman Festival (Boulder, CO)
Lightning in a Bottle (California)
Zanzibar (Santa Monica)
Artists
Karsh Kale
Dwight Trible
Idan Raichel
Jai Uttal
Masood Ali Khan
Pankaj Mishra
Aditya Prakash
Carlos Malta
Vishal Vaid
Gaura Vani
DJ Drez
Dave Stringer
EarthRise SoundSystem
Wah!
Paul Livingstone/Arohi
SELECTED DISCOGRAPHY
Featuring Sheela Bringi as a Solo or Featured Artist
DJ DREZ Chanting With Tigers 'Nandalala feat. Sheela Bringi' (lead vocals, bansuri)
Black Swan Sounds (2013)
EARTHRISE SOUNDSYSTEM Rock Beats Paper 'Bhavani feat. Sheela Bringi' (lead vocals, bansuri)
Yoga Organix/Black Swan Sounds (2013)
MASOOD ALI KHAN Hang With Angels 'Gopala feat. Sheela Bringi' (lead vocals, harp)
Yoga Organix/White Swan Records (2012)
DJ DREZ Sound Ambassador 12:12:12 'Colors feat. Sheela Bringi' (lead vocals)
Say It Loud Music (2013)
GLOBESONIC DJ ALSULTANY Sounds of Tadasana 'PremaSoul feat. Sheela Bringi' (bansuri)
YogiTunes (2012)
Featuring Sheela Bringi on Bansuri
NUSRAT FATEH ALI KHAN & MICHEAL BROOK: Remixed. Star Rise. Real World Records (2013)
SNATAM KAUR. Light of the Naam: Morning Chants CD. Spirit Voyage Records (2014)
GLOBESONIC DJ ALSULTANY. Yoga Lounge. Black Swan Sounds (2011)
GURUNAM. Breath of Devotion. Spirit Voyage Records (2013)  
JAI JAGADEESH. Of Heaven and Earth. Spirit Voyage Records (2013)
KRISHNA KAUR. One Creator. Spirit Voyage Records (2013)
ASHANA. River of Light. Spirit Voyage Records (2014)
PALOMA DEVI. Let It Be So. Spirit Voyage Records (2014)
FRED FRITH. Eye to Ear, Vol 3. TZADIK (2010)
FRED FRITH. Happy End Problem. ReR USA (2007)
R.K. MISHRA, ADITYA PRAKASH, SHEELA BRINGI. Mantras of the SVA Tradition. Adishakti (2013).
DAN STUART. Deliverance of Marlowe Buillings. The Cadiz Recording CO (2012)
PREMASOUL. A Shrine to All Things. PremaSoul Music (2009)
DAN BLANCHARD. Awakening: Raga Bhairav. Dan Blanchard Music (2011)